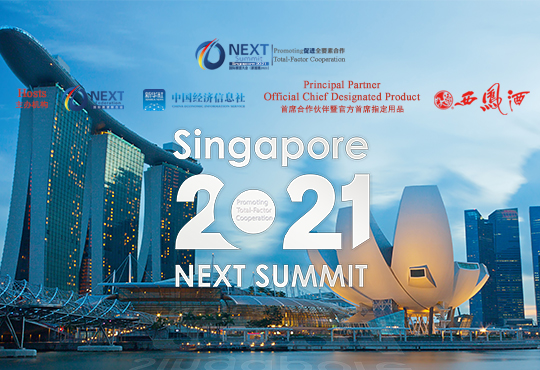 Photo shows the NEXT Summit (Singapore 2021) kicks off in Singapore on September 29, 2021.
BEIJING, Sept. 29 (Xinhua) — Themed "Promoting Total-Factor Cooperation", the NEXT Summit (Singapore 2021) kicked off on Wednesday in Singapore, attracting more than 70 participants, including officials, scholars and entrepreneurs, from over ten countries.
Co-hosted by NEXT Federation and China Economic Information Service of Xinhua News Agency and held mainly online, this session focuses on topics like technological singularity and new information technology revolution, agricultural science and food security, e-commerce upgrade and supply chain finance, etc.
This Summit aims at calling for efforts to strengthen total-factor cooperation, share the latest sci-tech (scientific and technological) research achievements and practices around the world, and discover leading enterprises in innovation and sci-tech research and development transformation platforms, noted Hammam Riza, Rotating President of Global Advisory Committee of NEXT Federation and Chairman of Agency for the Assessment and Application of Technology, Republic of Indonesia.
Gong Xixiang, Secretary-General of Xinhua News Agency, pointed out in his speech that despite the adverse situation caused by the recurring COVID-19 pandemic, the international cooperation under the Belt and Road Initiative (BRI) has opened up new space for world economic growth and provided an important platform for invigorating international trade and investment, demonstrating great momentum and resilience.
Singapore is an important country along the Belt and Road, and since the establishment of diplomatic ties in 1990, China and Singapore have achieved fruitful results in bilateral cooperation which has extended from trade and finance to medical services, education, technology and many other sectors in recent years, said Gong, adding that the two sides are expected to embrace more cooperation opportunities and open up new areas of cooperation in the future.
The epidemic has, to some extent, brought forward the fourth industrial revolution, and digital transformation has become a rapidly growing global trend, creating needs for new business models and daily lifestyles, remarked Yoo Jae-hoon, Vice President of NEXT Federation.
Innovation is the key to the fourth industrial revolution, and improving total-factor productivity through innovation is a key strategy to help developing countries get out of the so-called "middle-income trap", said he, adding that to improve a country's total-factor productivity, all parties need to carry out global industrial cooperation in trade, technology, finance and other fields.
Luhut Binsar Pandjaitan, Coordinating Minister for Maritime and Investment Affairs of Indonesia, shared in his speech a series of cooperative initiatives formulated by Indonesia to improve productivity, as well as the country's vision and policies in industry 4.0, electric vehicles and batteries, green energy, artificial intelligence, job creation, investment attraction and more.
The NEXT Summit has been held successfully in Auckland, Hangzhou and Dubai for four consecutive sessions.
(Edited by Gu Shanshan with Xinhua Silk Road, [email protected])